HOW TO MAKE YOUR OWN CBD OIL in 5 EASY STEPS!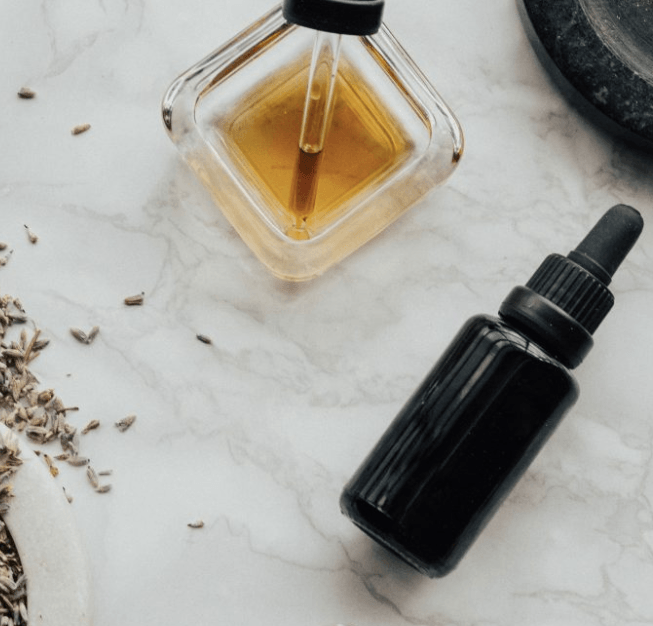 Making your own CBD oil at home is super easy and affordable. Only 5 steps, 2 ingredients and 30 minutes or less you can make your own CBD oil!
This recipe is ideal for:
Beginners! Only 5 easy steps and 30 min or less

People wanting a 100% THC free oil. 
People wanting a CBD oil with a mild taste
People who want to control and know the CBD potency
Prep time: 5 minutes
Cooking time: 5 minutes
Cooling time: 15-20 min
Serving size: 30ml (1 oz)
EQUIPMENT
Double boiler 

Metal spoon

Funnel

Gram Kitchen scale
1 oz. glass bottle with dropper

(Available here)
INGREDIENTS
29 grams of MCT oil (Nutiva is my favorite - available at most groceries or amazon)
STEP 1
Place about 2 inches of water in the bottom pan of the double boiler, add the top pan to the bottom pan of double boiler 
STEP 2
Place the double boiler on the stove and set to medium heat and wait for the water to come to a simmer.
STEP 3
Add the CBD isolate to the top pan. As the CBD isolate powder sits in the double boiler, it will begin to melt. The melting process typically only takes a few minutes, but exact times will depend on the water temperature. If you have CBD isolate with larger crystals, these will take a little more time to melt. 
STEP 4
Once the CBD isolate is melted. Remove from heat and add the MCT OIL. Gently stir to incorporate. 
Step 5
Allow the oil mixture to cool for about 15-20 minutes. Once cooled, use the funnel to pour the CBD infused oil into the 1oz glass bottle. 
That's it - you've just made your own CBD oil!
WHAT'S THE POTENCY?
The 30ml bottle has 1000mg of CBD. Each full dropper (1ml) will contain approximately 33 mg of CBD. Be sure to purchase a bottle with a measured dropper. This way you can accurately measure the CBD. 
HOW MUCH DO I TAKE?
CBD dosing varies by individual needs and body weight. A beginning mild dose for healthy adults is 25-35 mg. Start there and adjust as needed. Because this tincture is 100% THC free, you don't need to worry about any psychoactive effects if you increase the dosage. 
CAN I GIVE TO PETS?
Absolutely! This oil can easily be given to cats and dogs. Just adjust the dosage. The average guidelines for pets is 0.2-0.5mg CBD per pound of your pets body weight. Simply add to food or drop directly in mouth. For dogs, I find adding the oil to a little honey or peanut butter works best!
HOW TO USE CBD OIL
You can use this oil in a variety of ways. Sublingual consumption will provide fastest results. Simply drop the desired amount of oil under the tongue and hold for 30 seconds before swallowing. The oil comes in contact with a gland under the tongue and delivers the CBD into the body quickly. 
You can also add this oil to all sorts of edible recipes. From savory to desserts, gummies, drinks and even skin care and topical recipes. CBD pairs well with coffee (especially ideal in Bulletproof coffee). Simply add a half to full dropper to coffee and experience an extra boost of relaxed focus and motivation. 
If you have any questions or would like to share your CBD recipe ideas, feel free to contact us! contact@organicgreenroots.com