BE WELL
A new collection of hemp based wellness products thoughtfully formulated and made with our Organic CBD and CBG Hemp.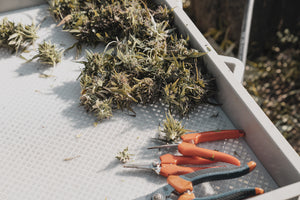 USDA Organic Hemp Flower
USDA & Oregon Tilth Certified Organic
Sunshine Grown in Oregon
Hand Harvested
Small Batch
Disclaimer
We must inform you that the statements on this website and/or product labels have not been evaluated by the FDA. Products are not intended to diagnose, treat, cure or prevent any disease or medical condition. The contents of this website are for informational purposes only & do not render medical or psychological advice, opinion, diagnosis, or treatment. The information provided through this website should not be used for diagnosing or treating a health problem or disease. It is not a substitute for professional care. If you have or suspect you may have a medical or psychological problem, you should consult your appropriate health care provider. Never disregard professional medical advice or delay in seeking it because of something you have read on this website. Any review or other matter that could be regarded as a testimonial or endorsement does not constitute a guarantee, warranty, or prediction regarding the outcome of any consultation.The testimonials on this website represent anecdotal experience of individual consumers. Individual experiences are not a substitute for scientific research.
Let customers speak for us